Lightweight Camping Gear Under 8kg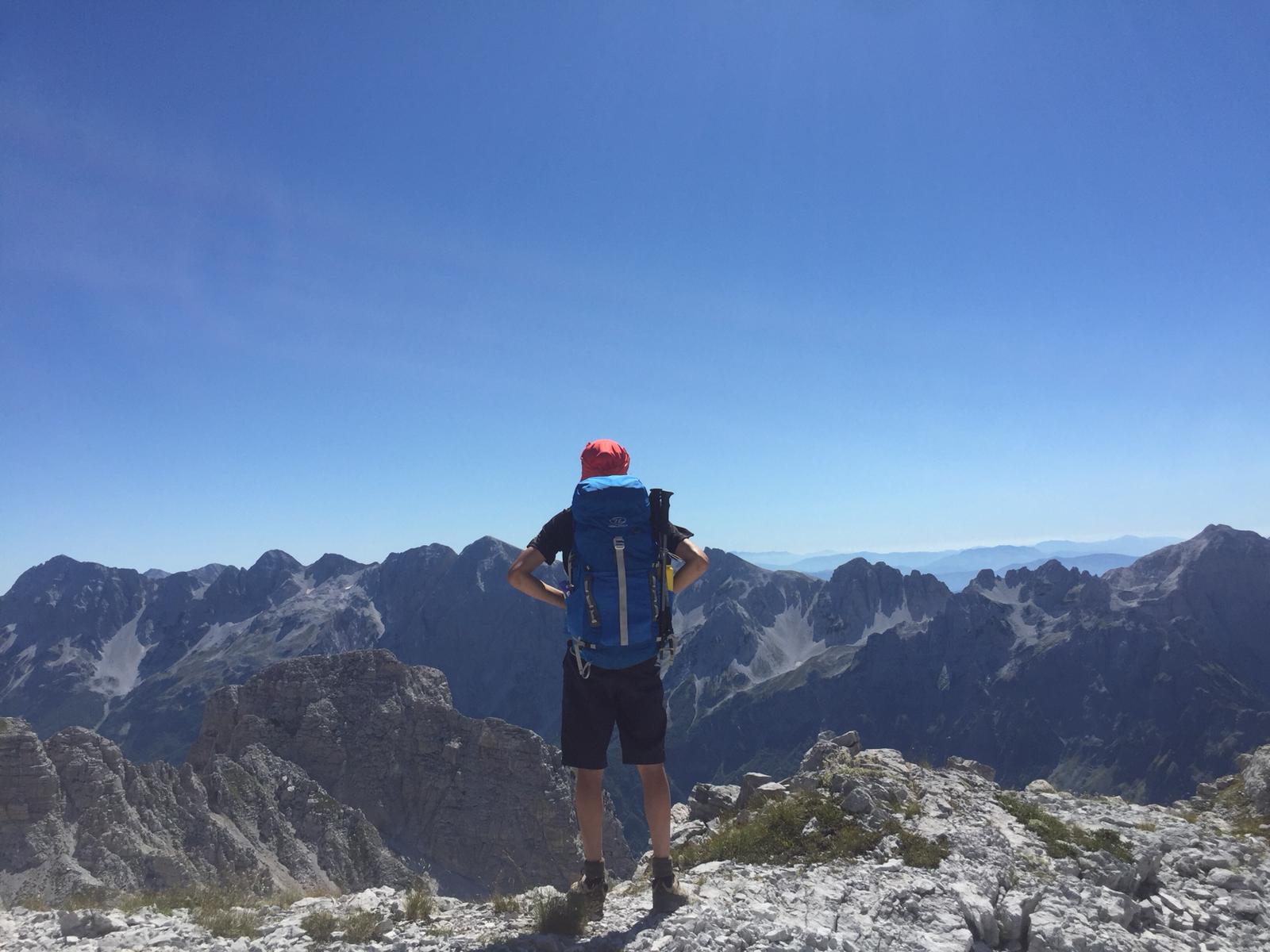 Scotland is one of the best places in the world to wild camp. Depending on your route, you could wake up to views over a loch, beside a bonnie sandy beach, or in the shadow of Ben Nevis.
By far the heaviest part of your gear will be your sleeping system. When you're looking to lose some weight, your camping kit is a great place to start. Nothing ruins your fun like an aching back, which is why we love lightweight camping.
Find out everything you need to know about it and discover how easy it is to kit out your comfortable solo camp gear for less than 8kg. 
What is considered lightweight camping?

Technically, lightweight camping is often defined as carrying 10kg or less in total pack weight. However, we think it's more of a mentality. If you focus on packing simply and enjoying the journey, you're a lightweight camper.
After all, you won't reduce your pack from 20kg to 10kg overnight. You'll probably take a few trips to cut down on your extras and upgrade your essentials.
What weight is considered ultralight?
Ultralight camping and hiking aim to keep your pack below 5kg. It's not easy. You'll sacrifice a few creature comforts. But it is worth it when you rediscover the ability to run the last few minutes to the peak.
What do I need for lightweight camping?
Successfully packing a lightweight camping trip requires two things. You need to choose items that are durable, but not heavy. And you need to leave behind any unnecessary items that will weigh you down. The following list gives you a cracking base for wild camping, only coming in at 8kg total. For the full hiking setup, take a look at our guide to ultralight hiking.
Our top tip: Multi-purpose items are your best mates. Be canny and turn your insulated jacket into a pillow at night.
Recommended gear for lightweight camping
Blackthorn 1 Tent
Your tent will always be the heaviest item in your pack. Seriously, if it's not, you're doing something wrong. This also means your tent has the most potential for weight savings, with the right tent immediately cutting at least 1kg from your pack. The Blackthorn is one such right tent. Thanks to its fibreglass poles, thin yet waterproof fabric, and ultra-low profile, it's a huge space saver. Clocking in at just 1.5kg, this hardy little tent fits a solo traveller, and their pack, perfectly.
Buy Now
Trekker 250 Sleeping Bag
Now a sleeping bag is your most weather-dependent item, but for all but the coldest winter nights, the Trekker 250 is a solid choice.
What makes this so great for lightweight camping is its hollow-fibre filling which has an impressive warmth-to-weight ratio at 1.3kg. And of course, the mummy shape is the way to go, reducing the material needed and holding all your heat in.
Buy now
HPX200 Compact Gas Stove (and a gas cartridge - not available online)
The world of gas stoves has a lot of choice, but it doesn't get much lighter than the HPX200. You're looking at just 130g of kit, plus any threaded cartridge – pick a wee 100g one to commit to going light. But just because it's tiny, disnae mean it's not mighty, igniting in all weathers and quickly helping you cook delicious trail scran.
Buy now
Trail 40L Backpack
A common hiker's mistake is to pick a backpack that's too large. Just because you can fill a 60L pack, disnae mean you should. Our Trail 40L is spacious and has top and bottom access points to help you pack sensibly. It's also 890g, a great size for weekend trips that willnae let you weigh yourself down with non-essentials.
Buy now
Isle of Skye Walking Pole
Most walking poles aren't heavy, but carbon fibre poles still stand out in the right way. You'll barely notice you're carrying them, with each pole just 182g.
Buy now
Dry Sacks
Nae soggy sleeping bags or drookit clothes when you've got a dry bag or two. We recommend picking up one larger for your next day's clothing, and one wee one for toiletries. You're talking a few extra grams for a great deal more comfort.
Buy now
Tritan Bottle
A good-sized water bottle is an essential, and you can save a lot of weight by choosing the right material. Tritan is our favourite, a tough but very light plastic that is a pleasure to drink from. This bottle gives you 700ml of water and weighs 140g – not including the water inside!
Buy now
Alcor Head Torch
The best way to find your way about your camping spot in the dark is with a head torch. After all, you dinnae want to go from star-gazing to seeing stars when you walk right into a low-hanging branch. The Alcor is a mere 40g, has white and red light functions, and is battery-operated for reassurance on longer trips.
Buy now
Mess Tin (+ Camping Food Sachet)
Now onto the really important stuff – scran. Camping light shouldnae mean tasteless food, as you can whip up a bonnie healthy meal with limited tools. Your mess tin can function as a pan and plate, and food sachets are better than ever. We recommend Summit To Eat food pouches.
Buy now
Military-Style Knife, Fork & Spoon Set
This no frills, simple cutlery set will work for any meal, and make sure you always have what you need. It'll only add 85g to your pack.
Buy now
Lightweight Mug
Always to hand when you need it, our lightweight mug is a simple wee bit of kit that might become your best travel companion. An extra 110g for a brew whenever you need one is a cracking deal, and it clips to your belt or rucksack to reduce faff when you take a break.
Buy now
Nap-Pak Inflatable Sleeping Mat
Stay warm by reducing heat loss between your body and the ground and get a great night's sleep with the NAP-PAK inflatable sleeping mat. This small packed-volume mat is durable, constructed of ripstop nylon, and ultralight (415g) without compromising comfort and warmth by using air cell baffles to provide a more even dispersion of pressure across the mattress for a comfortable night's sleep.
Buy Now
Additional tips for lightweight camping
Cut down the length of your toothbrush.
If you're taking a map, cut out and take with you only the bit you need.
Toilet paper - remove the cardboard centre, so it packs flat and put it in a plastic bag.
Check the weather - by knowing what the weather's going to do, you can plan ahead and leave unnecessary gear at home.
Use a head torch rather than carrying a bulky torch in your back. This also frees up your hands.
Make a small first aid kit - put plasters, a few pills, antiseptic wipes, and whatever else will fit into a pill bottle.
Dry out your gear - if it gets wet, then it's going to weigh a lot more than if it's dry.
Use a hydration bladder rather than bottles of water. Some rucksacks come with space specifically for them.
Use nearby rocks as tent pegs.
Try a microfibre instead of a beach towel - lightweight, quick-drying and dirt-resilient.
Use your insulated jacket instead of a pillow.


Conclusion
And now you're ready to chart your own course, find your own camping spot, and enjoy sleeping in total peace. Before you set off, don't forget to check out our top tips for wild camping.
Don't forget to tag us in your lightweight camping pictures, we always love sharing inspiration for other adventurers.
---