282 YEAR LIFETIME GUARANTEE*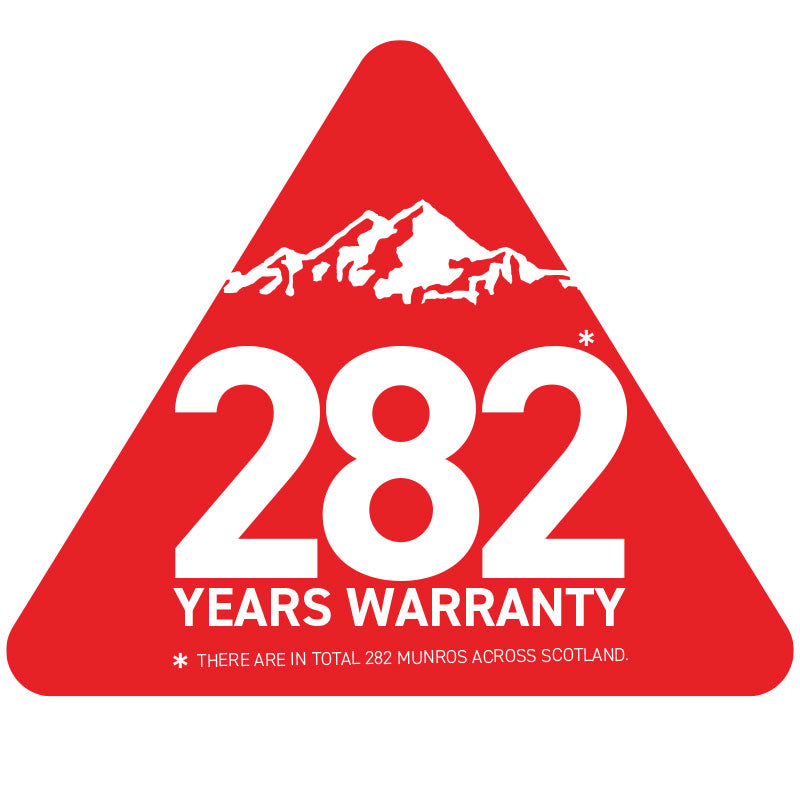 PURCHASE WITH CONFIDENCE FROM HIGHLANDER:
WE STAND BEHIND ALL OUR PRODUCTS.
We are confident in and stand behind all our Highlander products and are assured that they will perform as designed. we will consider any items for return that are defective due to materials or craftsmanship.
All Highlander products are guaranteed for 282 years or their lifetime against faults in workmanship and materials under the normal usable life of the product - the length of time any of our products can reasonably be expected to keep delivering the same fantastic performance as the day they were bought.
*We love the outdoors and our home here in Scotland and wanted to pick something close to our hearts... There are in total 282 Munros across Scotland. The highest Munro is Ben Nevis at 4,411 ft (1,345 m)
WHAT DOES THE LIMITED GUARANTEE COVER?

This 282 Years Guarantee covers against faults in workmanship and materials, the usual and customary wearable life of the product. The manner in which the products are used directly impacts the usual and customary wearable life of the product, as materials will deteriorate and fade over time and moving parts will also wear. We all know that clothing and equipment wears over time but this is a natural lifespan of the product.
• You must be the original purchaser of the product with a valid proof of purchase from an authorized Highlander dealer; and,
• The damage to your product must have been sustained as a result of normal, individual use (i.e., not subject to abuse).
WHAT DOES THE LIMITED GUARANTEE NOT COVER?

This Limited Guarantee does not cover any problem that is caused by:
Conditions, malfunctions or damage not resulting from defects in material or workmanship.\
THIS GUARANTEE DOES NOT COVER AND HIGHLANDER IS NOT RESPONSIBLE FOR:
• DAMAGES CAUSED BY MISUSE, ABUSE, OR BY ACCIDENT OR NEGLIGENCE
• FAILURE TO OBSERVE CARE INSTRUCTIONS INCLUDING INCORRECT LAUNDERING;
• DAMAGE CAUSED BY RIPS, CUTS OR TEARS;
• BURNS AND ABRASIONS;
• NORMAL WEAR AND TEAR;
• COSMETIC DAMAGE (I.E., MINOR SCRATCHES, SURFACE DEFORMATIONS, OR DISCOLORATION) INCLUDING NATURAL FADING OF COLOURS;
• UNAUTHORISED MODIFICATION OR ALTERATION INCLUDING ANY REPAIR DONE OUTSIDE OF HIGHLANDER CUSTOMER SERVICE;
• PRODUCTS WITH REMOVED OR DEFACED LABELS;
• COUNTERFEIT PRODUCTS;
• PRODUCTS PURCHASED "USED";
• PRODUCT PURCHASED "AS-IS", "WITHOUT WARRANTY", OR,
• ANY DAMAGES ARISING AFTER THE WARRANTY PERIOD.


WHAT DO YOU HAVE TO DO?
Upon purchase of the product, you must complete the registration form (below)

To obtain our warranty service, you must first contact us to determine the problem and the most appropriate solution for you.

In the unlikely event there is a product fault with your Highlander product, not including general wear and tear from normal use, and purchased from Highlander, please contact our Customer Service Team (customer.care@highlander-outdoor.com)who will advise if the item is eligible for repair or could replace it free of charge.

Before you send it back
• If you find any defects with the way your Highlander product has been built, we will repair or replace it without any charge, within its reasonable lifetime.
• After contacting customer support and before you send your item to us please remember to clean it and remove all personal belongings.
• We look at each case individually and the final decision regarding the warranty will be provided upon evaluation of the item in question.
HIGHLANDER PRODUCT REGISTRATION
Fill in the form below to register your product.